NOW AVAILABLE FOR PRE-ORDER!
Arriving August 3, 2021
Praying Mom
"God, I need you to do something in my children!"
Have those words found their way into your desperate prayers? Do you feel helpless to know how to equip your children for this world and all it will throw at them? Have you prayed, "God, I can't be the mom they need. I need You to help me!"
If so, you're not alone.
The good news is that there is a way to stay connected with the One Who has all the answers, so you can be the mom you need to be.
Brooke McGlothlin was faced with the undeniable fact that her best efforts fell woefully short of her goal to produce godly children. She knew if God didn't show up, nothing would change in her home, so she began to pray scripture for her children. Both her life and her children's lives were transformed. Yours can be too.
Over the years, Brooke learned that while prayer is the most important part of Christian parenting, many moms feel stifled in their prayers and so continue to feel helpless and hopeless.
Do you feel like you:
don't know what or how to pray.
don't know if your prayers really matter.
can't pray until get your life together.
are too busy to pray?
Praying Mom will have you making prayer your first and best response to every aspect of family life, and thriving as a mom full of hope in the God who can, even if you can't.
Million Praying Moms
Make prayer your first and best response to the challenges of parenting. Click the button below to get our free prayer challenge, 7 Prayers for Every Mom.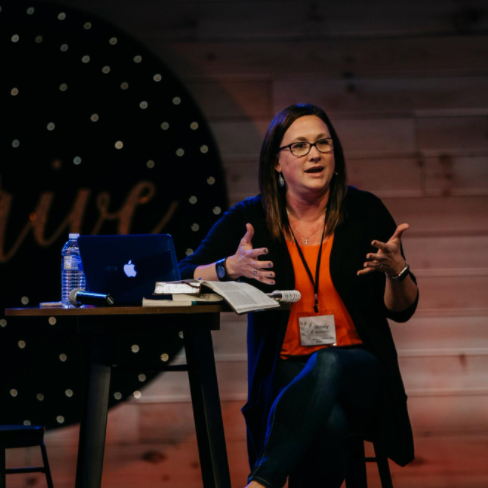 Speaking
My goal is to partner with you in serving your audience with excellence, and I offer a variety of topics. Click the link below to learn more!
Brooke McGlothlin is a trusted voice. She leads with heart, with wisdom and with the reminder of the foundational difference prayer makes. 
-Sissy Goff, LPC-MHSP, Counselor and Author of Raising Worry-Free Girls
Brooke on Focus on the Family
Brooke McGlothlin discusses the need for parents to pray Scripture over their sons, and offers advice on raising boys to be men of integrity, character and respect.
Brooke on Family Life Today
Brooke McGlothlin grew up dreaming of having little boys of her own. But parenting boys left her feeling frazzled and drained. She explains how she allowed God to change her dreams for His glory. McGlothlin dispels the myths of the "ME" gospel. She also identifies four main categories where she sees moms struggling most.
Brooke on Million Praying Moms Podcast
Hang out with Brooke in a bonus series called Prayer Tips with Brooke on the Million Praying Moms Podcast! The Prayer Tips series is designed to be short, practical, and get right to the point. My hope with these shorter episodes is to meet moms right where they are with practical power punches to help them take the very next step in creating a vibrant prayer life that makes a difference for their families!
Bits of Brooke
One of my specialties is finding the spiritual lesson inside of the ordinary things of life, and as an introvert, I prefer to surround myself with an inner circle to share it with. As a part of my monthly newsletter for online friends, Bits of Brooke, you'll get insider info about what's happening in my family's daily life and how God uses the hard, happy, and hysterical to teach us more about Him. Just enter your name and email address below to subscribe and I'll send you two free prayer printables based on my newest book, Praying Mom (designed by Erin Mohring).