What the Heck are Essential Oils?
(And why do I need them)?
That's the question I asked myself 10 years ago as I searched the internet for solutions to my health needs.
I'm not sure you could've found someone on the planet who was less interested in natural health than me. For most of my life I've just wanted to be able to pop a pill and be done with it. What I didn't realize was that by the time I was 35 years old, I would feel completely hindered by my health while trying desperately to deal with two very hard-to-handle boys who had health issues of their own. All the meds I was on to help correct my chronic health issues (nothing life threatening, just junk that wasn't going away) worked to control what was ailing me, but a few months in I found myself feeling worse from the side-effects of the meds than I did from the health issues themselves. I knew something had to change.
And so began my pursuit of alternative options.
With a very tight budget, I purchased my very first box of essential oils, a kit that included 10 of doTERRA's most popular, most versatile oils. When it was delivered, I grabbed it out of the delivery person's hands, ran upstairs, locked myself in my bedroom, and opened the key to a small miracle.
Why a Miracle? 
Because it changed my family's health forever. Now, we easily address 75% or more of our health concerns using natural, safe, pure essential oils. They are our first line of defense, and apart from major issues, we deal with most everything life throws at us from home. As a mom, I call this a miracle!
So, What Are Essential Oils?
Essential oils support our bodies in behaving the way they were designed by God to function in a safe and effective way. Our entire medical system is built on a foundation of the usefulness of plants. They have long been used for food preparation, beauty treatment, and health care practices (honestly, you're probably already using essential oils now in the products in your home!). Best of all? I can safely and thoughtfully use them on my children without having to worry about hurting them.
1. Less is More.
If you want to know how I learned this, I'll tell you. THE HARD WAY! (For details, send me an email to  mcglothlinessentials@gmail.com. It's hysterical)! But truly, about 90% of the time, we only need 1-2 drops of oil to take care of our needs. 
2. doTERRA Oils are Affordable.
Yes, pure oils are more expensive than those you can get at Target or Walmart, or even your health food store, and the reason for that is simple; they're better. No lie. If you're getting your oils from a discount retailer, you're not going to get the results you want, and that's a waste of money.
3. Essential Oils Can be Used Hundreds of Ways.
Internally (yes, I use them this way almost daily. We can talk about it), topically, aromatically, for cleaning, laundry, cooking, in place of toxic candles, on pets (safely…yes there are things to consider, here), on children, for athletes…the list goes on and on. And each oil has hundreds of uses all on its own.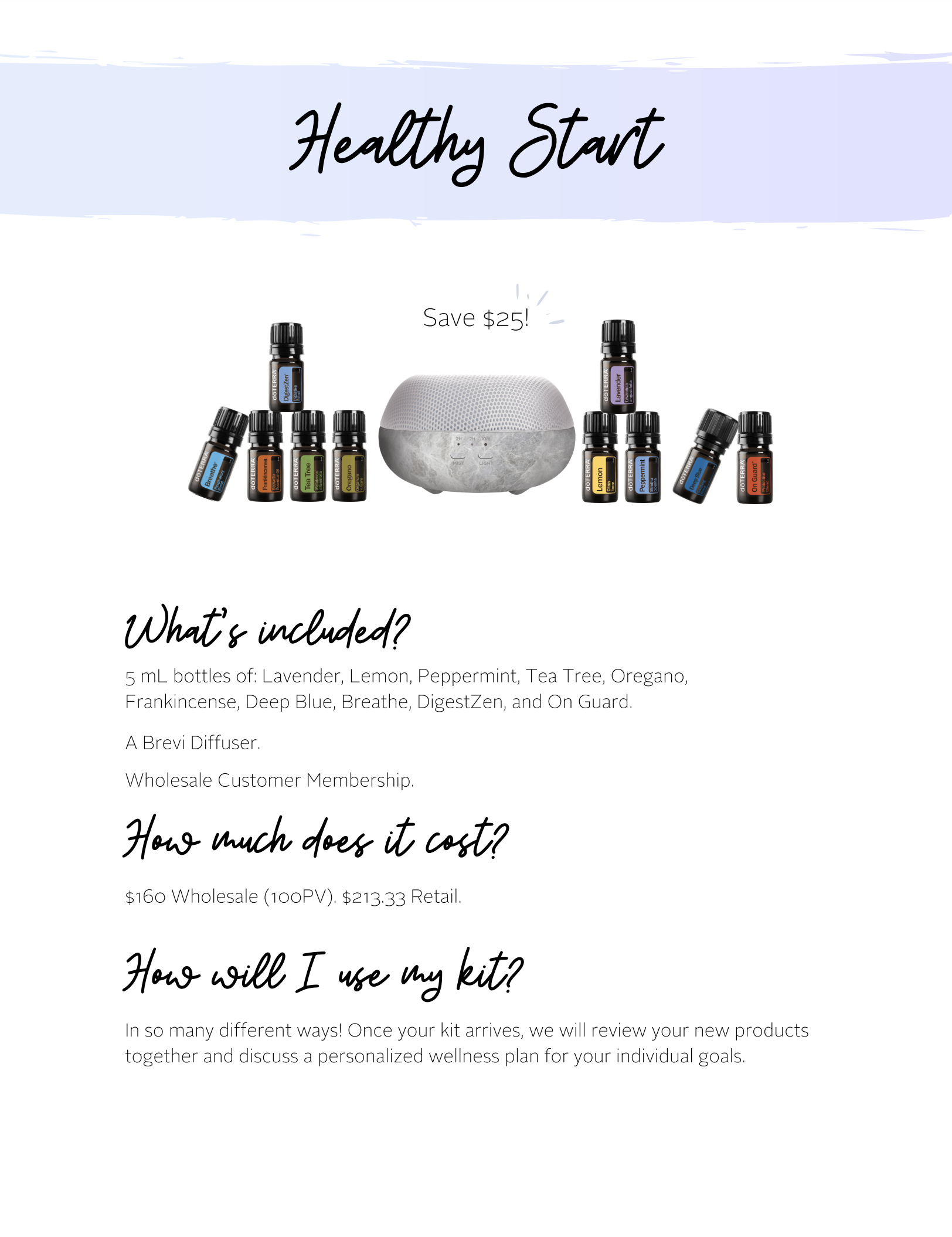 You'll save a TON of money in the long run if you open your wholesale account with a kit. The kits above are three of my favorite options. When you open a wholesale account, you get a DEEP discount on the purest oils on the market today. And most importantly, there are no ongoing purchases necessary. You can truly buy WHAT you want WHEN you want it. At first I was nervous about the idea of a wholesale 'membership,' but once I realized it was just like Sam's Club (pay the fee yearly and then purchase whenever and whatever you want), I felt much better.
What My Customers Are Saying
"It was awesome getting to work with Brooke. She was always available to answer questions, and I never felt pressured. She helped me customize what works for ME, and I feel comfortable trusting her judgment. Her heart is in helping people." ~Krystal
"Oils have helped me SO much! Thank you for your guidance and answering the questions I had!" ~Tonya

"I found relief for my stress and was impressed by all the information I got!" ~Jill
Have More Questions? Let's Talk!